E-Commerce Website for Golden Mean Gauge
This is another UK based client for NeaVizion which makes us proud. Golden Mean Gauge project was a re-build project, where we were presented with a much simpler version of an old website, written in simple HTML and without direct possibility of online sales. The owner of Golden Mean Gauge is world's best expert in production of GM Gauges and has a real need of expanding his sales online. This is where our client approached us with the request of modernizing this website and turning it into a modern, responsive, mobile-friendly, fast and good looking new website! Of course one of the most important requirements was the possibility to sell the gauges online and have control over the e-shop.
NeaVizion developed a WordPress based website which integrated WooCommerce platform as a solution for online sales with PayPal processing. We have delivered a modern and mobile-friendly design, with side navigation and color theme that suits our client branding.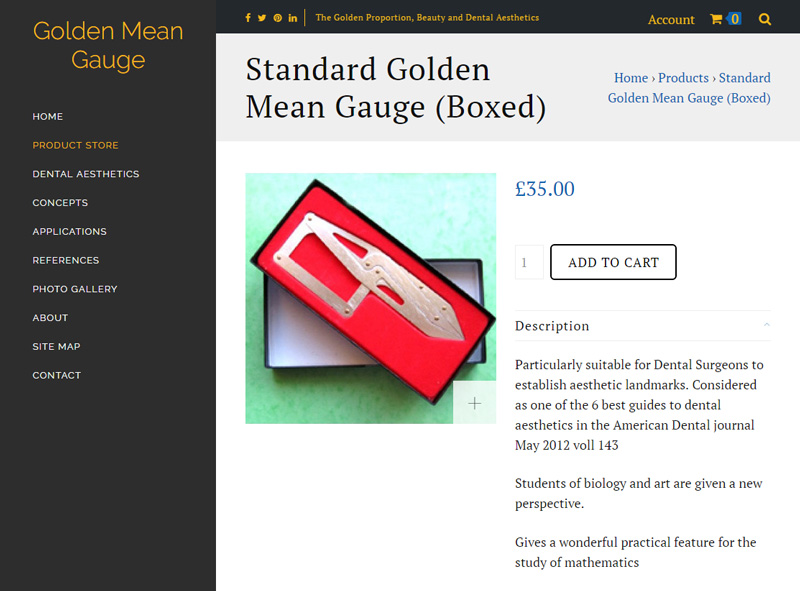 The website has a fully functional e-commerce section, integrated within the same website and using PayPal as a processor. The client was very happy with the end result, the sales started coming in and are still going well today, expanding our client's reach though out the planet! This makes us really happy as our client's success is truly felt as our own success!
Like what you see here?
If you like what we have done for this client and you have something similar in mind, or maybe something a bit different, just drop us a message and start the discussion today. We'll be more than happy to help you achieve your digital success.
Start Your Project Now