Laravel Based Intranet for Baron Point Financial
Another custom PHP project, which has recently been updated based on the public relations needs of M&C Saatchi PR for Baron Point Group is a front-end public communications content website, combined with an intranet system developed exclusively for use across the Baron Point Group enterprise, which is a multi-jurisdictional/entity group of companies.
The platform was developed in Laravel – our favorite PHP framework. The website represents a front-end which summarizes the enterprise and its multiple disciplines on the front-end with a back-end intranet system which allows Baron Point to actively develop multiple transaction virtual data rooms as well as manage active content without the need for a skilled programmer.
Therefore, the system has three parts, an administration side for active and dynamic updating, password protected side for viewing content, and an administrator assignable virtual data room to offer transaction specific content for deals Baron Point Group has engaged or is conducting or a subject to due diligence and vetting. All areas are highly secured and password protected, and therefore are not accessible to the public due to the sensitive nature of the data being shared and to keep Baron Point's Merchant Banking activities within compliance of its regulators and best practices compliance requirements, documented and evidenced to institutional standards.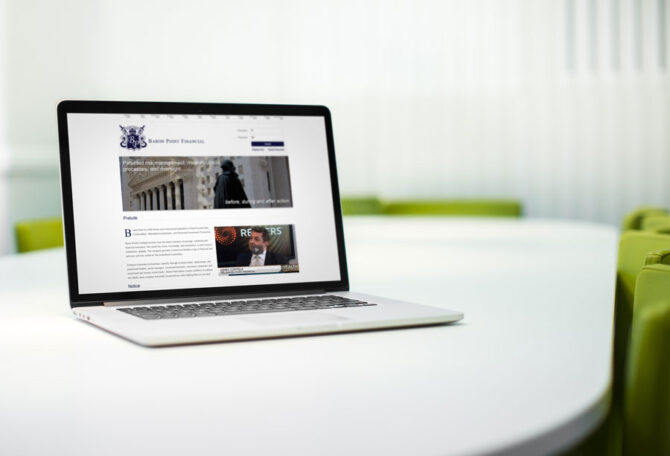 The administration segment of the intranet website allows the approved and password assigned admins to add/manage and delete the users on the website and also manage active and changing content on the website, both public and secured content (CMS). The client side of the intranet allows the clients, friends and prospects to browse secure content which is presented to a user and varies depending on the access level assigned to the user by the admin.
Baron Point Group heritage evolves from the finest members of peerage, including a member of the Royal Family of Abu Dhabi that combines with business innovators. The group has is multidisciplinary with senior management experts in Western, Middle and Far East business with significant access and achievement conducting mega-projects, blockbuster transactions, and in risk management and trading activities. Baron Point Group excels as an innovator in:
Merchant Banking and Project Finance
Global Markets & Trading
Physical Commodities sourced and supplied with National Refineries and National Timber Harvesters
Petroleum Engineering and Channel Development
Construction Management
Like what you see here?
If you like what we have done for this client and you have something similar in mind, or maybe something a bit different, just drop us a message and start the discussion today. We'll be more than happy to help you achieve your digital success.
Start Your Project Now