WooCommerce Based Website for Premier Care Supplies from Canada
NeaVizion has been approached by Premier Care Supplies from Canada to develop an online shop for their newly opened business of personal healthcare products which they have just started. One of the most important parts of their vision was the ability to serve their clients online providing maximum privacy for their clients while ensuring 24/7 availability of their products and services.
NeaVizion developed a WooCommerce based e-shop system from scratch, which includes around 200 normal and variable products, shipping based on Postal Address, taxes and PayPal processing. NeaVizion was also responsible for adding all 200 products, a task which included digital processing of all related product photos, adding product details, categories, product variations and variation prices.
Premier Care Supplies is a dedicated family business with a vision to provide a wide and ever growing selection of personal and healthcare products to the public, hospitals, long term care facilities and alternative healthcare providers in a cost effective, convenient and confidential manner, thereby meeting the changing and diverse needs of a growing and dynamic industry.
This project was co-managed by our Canadian partner i23web.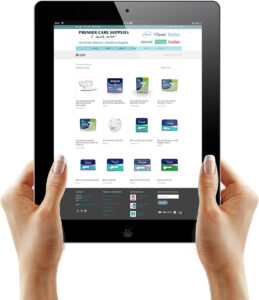 Like what you see here?
If you like what we have done for this client and you have something similar in mind, or maybe something a bit different, just drop us a message and start the discussion today. We'll be more than happy to help you achieve your digital success.
Start Your Project Now