LaSalle Consulting Partners, Inc is recognized as one of the few consulting firms that has extensive experience providing technology solutions for their clients. Their expertise includes technology services for Employee Benefit Funds, Law Firms and Labor Organizations among others.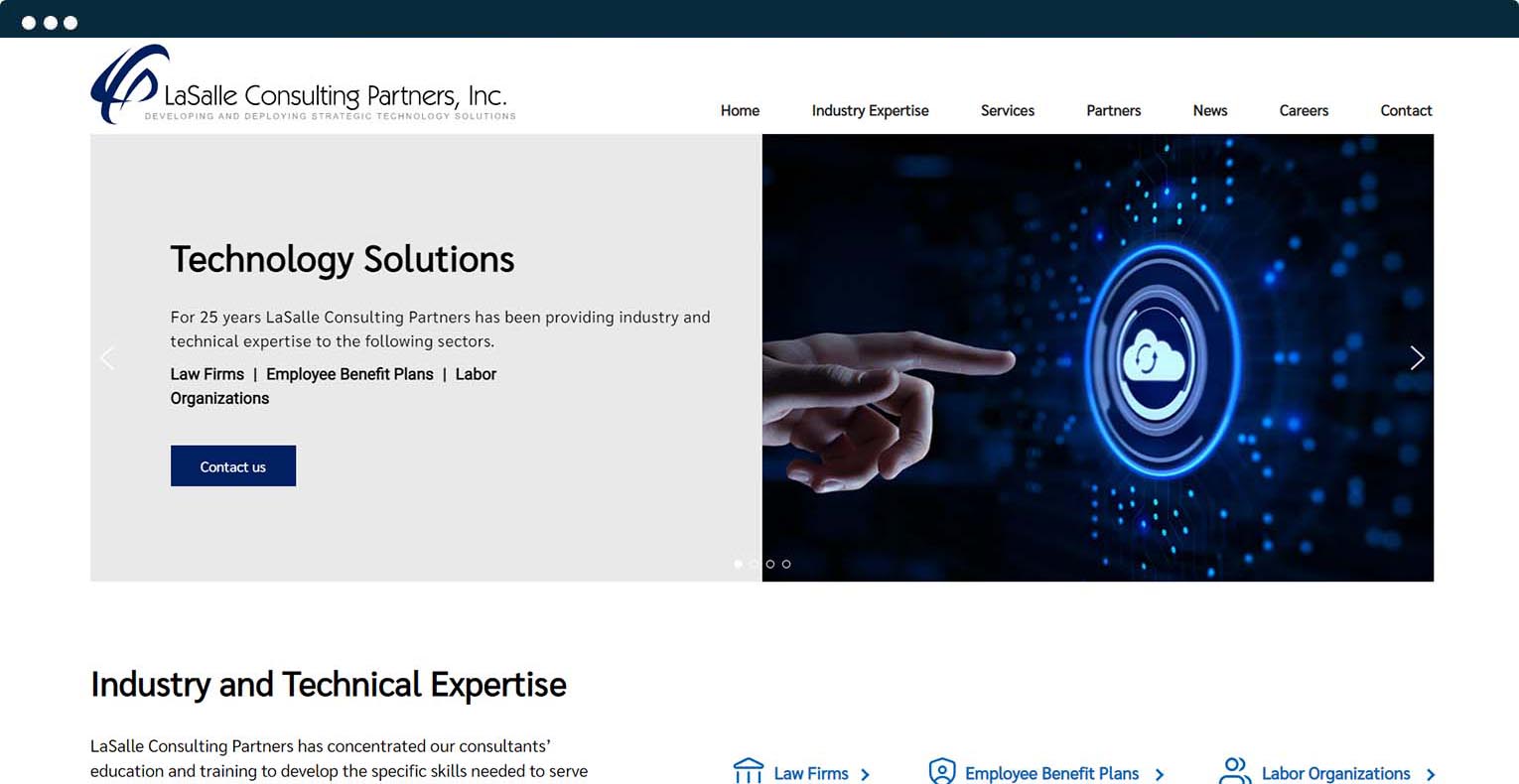 The Challenge
The Client has operated a website for some years.
With advancing web technology, continuous algorithm updates from the search engines, and the rise of social media, LaSalle Consulting Partners, Inc needed to redesign its website to align with the technology trends, goals of the business, and target audience.
Since the (old) website was initially developed the entire web technology on which the website was based has changed greatly. The website was based on the WordPress platform; however, it was using a commercial theme that was not originally built with SEO in mind.
The site used a lot of elements, scripts, and plugins that made the site look nice, but on the other hand, made it "heavy" and slow which can negatively affect the Client's site ranking. Low ranking in SERPs can have a very negative effect on ROI from investing in an online presence.
A large number of elements, modules, and plugins also often lead to incompatibilities with the latest versions of WordPress core files. There were also some aesthetic requirements for the new website. The page speed grades were considerably low on the old website, this also needed a boost with the new solution.
The Solution
Based on the identified issues, NeaVizion recommended building a new website from scratch.
Nowadays, the new sites are being built on one of the default WordPress themes using a Child Theme for any customizations, which has two benefits. The core files of the main theme will not be touched meaning that the WordPress core updates should go flawlessly, and on the other side working with a clean child theme means the site will be clean and fast.
The solution provided by NeaVizion included updating the underlying technology to the latest and fastest version. The website is based on the WordPress platform, by using a "lightweight" theme, with SEO in mind. The new website now uses a minimal number of elements, scripts, and plugins that can slow down the website. The website was aesthetically updated and now looks completely different compared to the old website. It is a modern, bright, and corporate-looking website with responsive technology behind it which enables proper presentation on any device.
In Our Client's Words
Martin and Lidija, The web site looks fantastic! Thank you for everything! Lets talk next week about an on-going relationship.

Frank L. Zurek
CPA, Principal
Like what you see here?
If you like what we have done for this client and you have something similar in mind, or maybe something a bit different, just drop us a message and start the discussion today. We'll be more than happy to help you achieve your digital success.
Start Your Project Now