Pinterest is not only a social media platform like the others. Pinterest is a photo and video search engine with its unique algorithm or maybe it is better explained in their own words: "Pinterest is a visual discovery engine for finding ideas…". What is most exciting and compelling from a marketing perspective is that the content is much more easily discovered than anywhere else.
Here at NeaVizion we want to help you understand and leverage this advantage that Pinterest offers, help you bring more exposure and followers to your profile, spread the word about your brand, products, and services, and generate more traffic to your website. All this is part of the big puzzle in creating leads and generating more revenue for your business.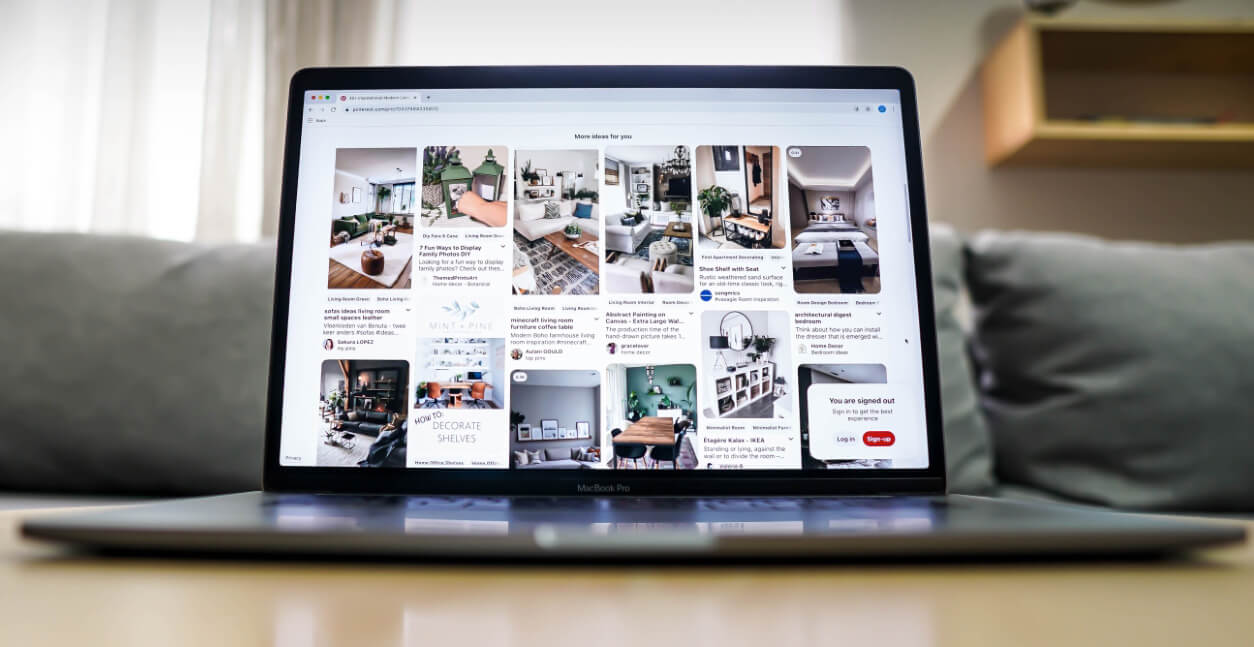 Recently we have been running marketing campaigns and profile management for several clients and we have created a shortlist of important tips which can help you and your content be easily discovered and get as much value as possible out of Pinterest. We strongly recommend using the following:
All of the above points are completely searchable on Pinterest so we advise you to use as many relevant keywords as possible while creating them. This will help you rank higher in the Pinterest search feed, give you more exposure, and ultimately help you grow your business.
Use relevant keywords in the Name of Your Pinterest Profile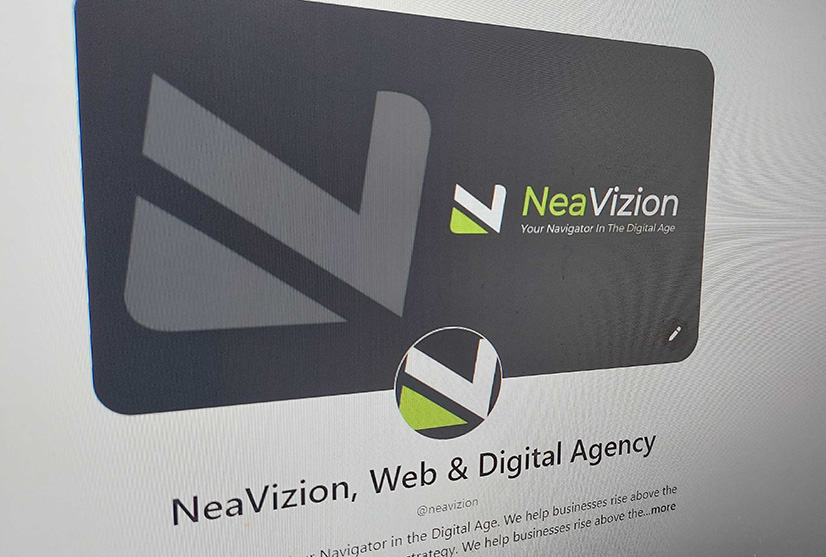 Usually when creating the Name of their Pinterest Profile people use their full name or the name of their business. This is OK, but we want to give you a head start over those people by urging you to use keywords in your name as well. For example, if you are a marketing expert your ideal profile name would be: Name and Surname, Marketing and Social Media, Name of Company. By adding the keywords "Marketing and Social Media" your profile becomes eligible to pop up in every search query that uses this phrase and brings you more exposure with the millions of daily searches.
It is of utmost importance to figure out which keywords are the most relevant for your business so by using them in your Pinterest Profile to bring you the most value.
Use clarity and relevant keywords in the About Section of Your Profile
The About section on your Pinterest profile is a valuable place where you can also put keywords and keyword phrases to help you rank better on the Pinterest search. Here you want to inform the people as clearly as possible about what they're gonna get from following your profile – clarity over creativity. To continue with the previous marketing expert example, in this section it would be good to use: Marketing and Social Media, Pinterest Marketing Expert, Follow My Tips To Grow Your Business On Pinterest. Or something similar to that.
These keywords will help you again, rank higher and attract more followers, especially people specifically looking for the content that you're sharing on Pinterest.
Use relevant keywords in the Title of Your Boards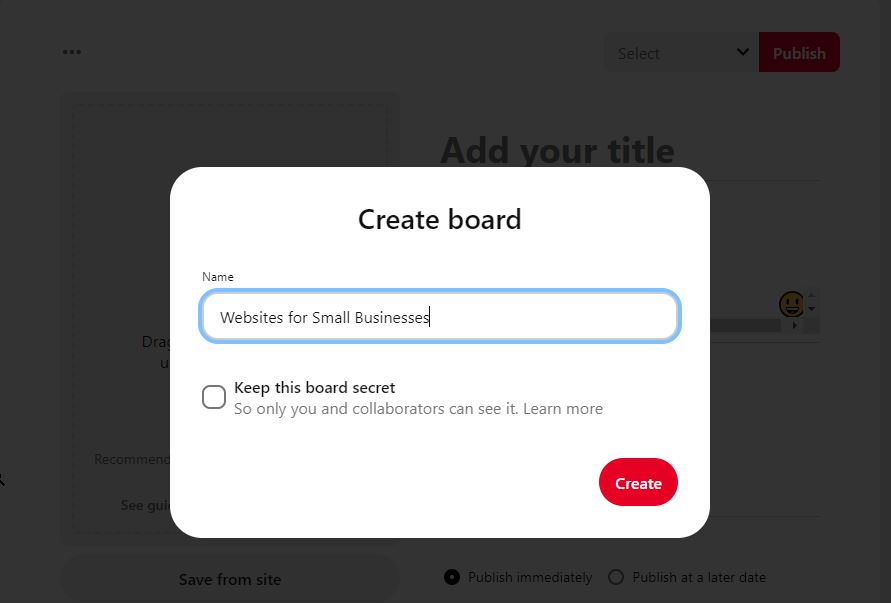 When creating the title of any board you want to make sure to use relevant keywords since all titles of your boards are searchable. Not only that but the Pinterest search bar has an added bonus option. On the right side of the bar, you can specifically choose to search from All Pins, Videos, Boards, and Your Pins. So, in order to generate more exposure, we strongly advise you to be sure that your board titles are super relevant to your niche. Then it will be easier for the people who are searching for boards specific to your keywords to find your results.
Use clarity and relevant keywords in the Description of Your Boards
Similar to the suggestions for the About section for your Pinterest profile when creating the description for a new board or editing an old one it is of great importance to use keywords and keyword phrases relevant to your content. You also want to make sure that all of your boards have a clear explanation that tells what the board is all about and who the board serves best.
It's very important for you to organize your content as best as possible with the Pinterest Boards which should also boost your visibility.
Use relevant keywords in the Title of Your Pins
Similar to the boards and the name of your account, every single pin has its own title, which is completely searchable and we advise you to use keywords in it as well.
Here too, you want to make sure that the title of your pin, new or old, is as relevant as possible to your content. We also recommend for example to use the same title for your pin as the title of the blog article you want to post on Pinterest.
When pin titles are in question here is a tip on how you can re-use your content multiple times and test out different keywords. For example, you can reuse a graphic you pinned some time ago with a set of keywords in the title, and now you pin the same graphic again but with different keywords or different variants in the title. So, now you have two pieces of content but they will be found as search results for two different keyword phrases which will bring more visits to your profile.
Use relevant keywords in the Description of Your Pins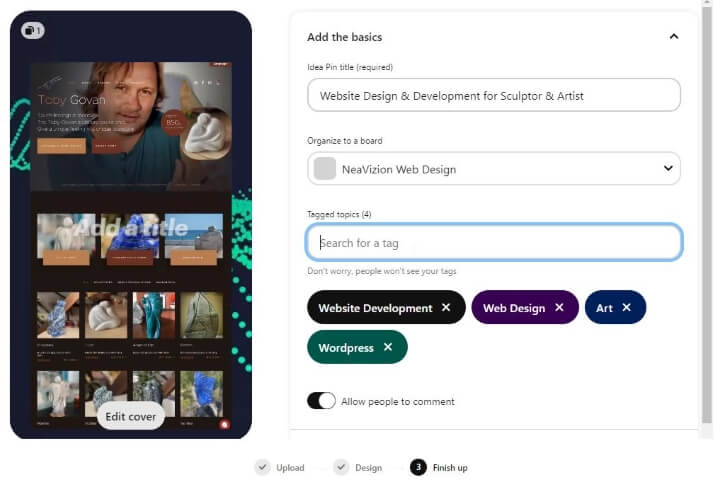 This is the place where we suggest you put the keywords, phrases and variants that you really want to be found for on Pinterest. 
As for every keyword we recommend that you do some thorough research on this, too. It's really important to nail both the title of your pin as well as the pin description. This will start a chain reaction and help your exposure go up by ranking higher, the number of your followers will go up, the clicks will go up, as well as the sales. 
As we suggested above to use different titles for the same graphic to reuse your content we also recommend using different descriptions as well.
Combine your keywords with hashtags
When speaking about keyword and hashtags strategy, we recommend you use at least three to five keyword phrases, and that's how you will start ranking your pins, which will attract more traffic and it is a solid strategy to help you improve your marketing results.
We also recommend using a combination of keyword phrases and hashtags. So, instead of doing one pin with keyword phrases and one pin with hashtags, we recommend you do one pin with keyword phrases and hashtags together to increase your impressions and exposure. We have found that this combination brings the best results.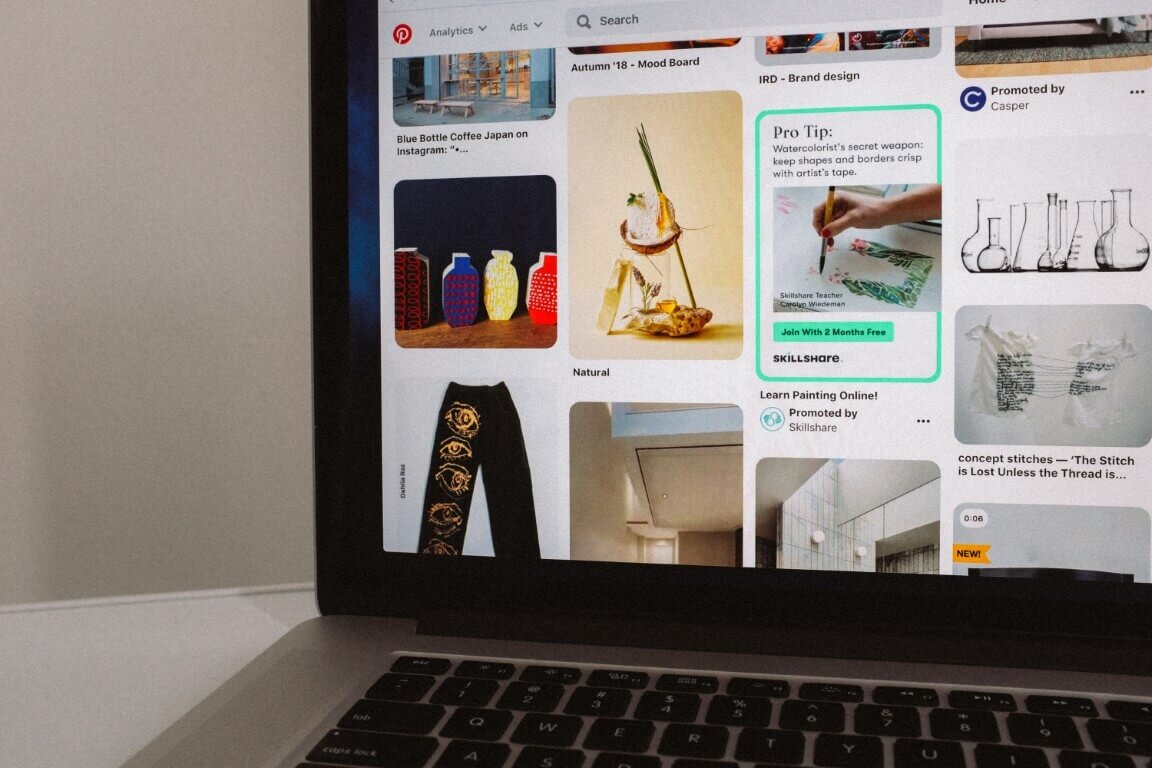 What can we do for you?
We can have a call, and if you are interested we can put you on a Digital Marketing plan. In that way, you can put your mind at ease, and we will take care of things like this one. And many more. Please read more about our Digital Marketing services here.
How much will a Digital Marketing plan cost me?
That depends mostly on the budget you would like to invest in your marketing. If the budget is bigger, our services will also have to be bigger and cover more strategic and creative thinking, more ads, more campaigns, more analysis, and more reporting.  So, let's have a chat, and let's tailor a Digital Marketing plan that will suit your business needs.