How can I convert my Flash website to HTML5? How can I make it Responsive, cross-browser compatible, and visible on all modern devices?
Update: Google will use the "mobile-friendliness" of a website as its ranking signal! This means that those websites that pass the mobile-friendly requirements will be ranked higher on the search results compared to those competitors which are not yet up to the standards of the modern mobile-friendly era! Having a Flash website now puts you in even greater danger of losing traffic and possible leads coming from the biggest search engines. Apart from that, the speed of any website is also considered a high-ranking factor by Google, and of course, Flash websites are among the slowest website technologies today. Act now!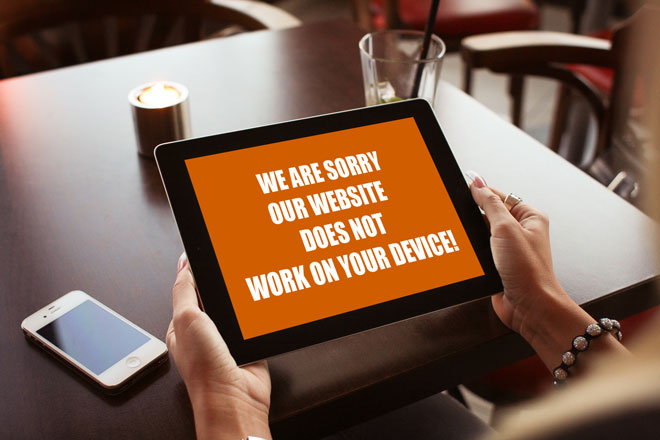 Is this the kind of problem you are facing today? Don't worry, you are not alone.
Then you're one of many people having this problem these days. As you may well know, Apple does not support Flash content on its devices for some time now, and Adobe has ceased the development of Flash for mobile devices (smartphones and tablets) including the new 4.x Android-powered devices. This is a real problem for many owners of Flash-enabled websites which just a few years ago were proud owners of a nice and cool, animated and fancy, full of impressive effects web presentation. All of these websites are now useless as they are not visible in the tablets/smartphone market. The owners of these websites are now forced to switch to non-flash websites and pay extra money for the new website development. This must be frustrating for the website owners as it is a completely unplanned and unwanted waste of time and money for them.
But don't be alarmed, NeaVizion has a complete, professional, affordable, and fast solution for you! NeaVizion converts your Flash content into usable HTML5 code which can be properly presented on iPhone, iPad, or new Android devices. NeaVizion can also provide you with a step forward and migrate your website to the new Responsive technologies and Content Management Systems like WordPress and Joomla.
NeaVizion follows the latest recommendations by Google for designing Mobile-Friendly and Smartphone Optimized Websites!